Successfully Serving Clients Since 2012
Year-After-Year We Work Smarter And Harder
All-In-One Marketing Solution
Eblast = Electronic Message Blast
We've been serving customers since 2012 for our Melville, NY headquarters, and we know the electronic direct messaging environment. Our team of professionals have assembled an all-in-one marketing interface that's going to streamline your efforts, and provide you with new opportunities for growth.
With our support, you can feel comfortable adding our multi-channel eblast marketing services with little to no effort. We're here to help, and our team will work to understand your goals, and then teach you the features needed to achieve them. We make it simple, and offer the industry's best customer support experience.
Rest assured that you won't be our most challenging client – we have experience to share! We serve the mom-and-pop start-ups, the fast-paced small businesses, and the bustling large companies of all sizes from a variety of industries. We offer one single standard of customer service – the best – and everyone enjoys the same professionalism and privacy no matter how large or small a business is.
Relax. We're here to help you grow. You're with the industry's best customer service provider.
Goal Crushing Mentality
We Listen, Plan, Then Work Towards Success!

Together we're going to plot your path to goal achieving success! Our account executives know how to help you translate your business, product, and service into eblast marketing that attracts online customers. We'll work on your digital messaging to ensure you have a full gamut of solutions to help: generate new leads, retain existing customers, improve prospecting results, and help you get more out of your budget.
"Oh wow! It works!"
See what clients say about our user experience:
"

I've been sending fun animated holiday e-blasts for years with E-blasting.com. They are always the topic of conversation at my work Christmas parties. Little does everyone know; I am going to begin sending animated MMS messages this year!

"
-Dan D.
✭✭✭✭✭
"

As President of the Rotary in my town, I like to add QR codes to all the flyers I make for events. It's so simple to set up a QR code in my e-blasting.com account and download it to use in my flyer. Sometimes I even send people to a landing page that adds their contact information directly into my account. I now have a growing list of people to contact for all future events.

"
-Alex C.
✭✭✭✭✭
"

Texting into our sponsor's promotions has changed everything for our sponsors, and make it a more valuable relationship to them. How the folks at Eblasting helped us put this together was awesome. Design help. Running the campaigns with us to start… all of it was top-notch and fun. The texting has become a cornerstone to our player engagement.

"
-Richard H.
✭✭✭✭✭
"

When we first began our house flipping business was all about referrals, but now we have added a text-in to our signs – the ones on the lawns. People drive by and text-in to us, get a picture of me and my wife back with a short text blurb, and the introduction is made. OH WOW! IT WORKS! I call their cell, and it's like magic, they're waiting for me to call! I cannot believe it… the easiest thing we've ever set up. It costs NOTHING compared to what it has done for us!

"
-Kelly S.
✭✭✭✭✭
"

At times its hard to figure out which patients want what. Eblasting solved that for us with an assortment of office signs. Each sign has a different keyword to text into, and each patient receives a specific reply based on their keyword. We have been more successful with targeted promotions, since the lists are comprised of opted-in patients asking for info. It was such an obvious change – I wish we did it sooner.

"
-Nicole R.
✭✭✭✭✭
Something To Know About Us
We Repeatedly Kick Major Butt For You!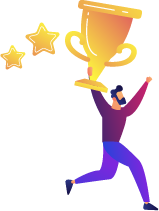 We Are Serious About Our Systems
Our system is state-of-the-art multichannel marketing. We take pride in the services we provide, and we only offer service to those legitimate entities and individuals looking to accomplish moral and legal goals. This is a serious company, and we will not tolerate abuse of our system or those of our partners.